TrueAffinity™ Is Your Powerful AI Marketing Tool
Social affinities help inform data-driven audience segments, when no other data exists
How do you address a truly unique audience to your brand through programmatic media channels when no addressable data exists?
This audience problem exists for brands across many verticals who want to capitalize on the advantages and opportunities that programmatic-digital media provides.  Because I'm based in Los Angeles though, the entertainment vertical (specifically Theatrical) comes to mind as a particularly large vertical suffering from this data dilemma.
In digital marketing, understanding consumers' interests through observed web behaviors (page views, engagement, purchases, etc.), mobile location history and even TV-viewing enables marketers to confidently reach relevant audiences with minimal waste, through programmatic channels.  But what's a theatrical marketer to do when they want to reach an audience specifically tailored to their film that is not yet released?  Dropping a cookie or collecting a device ID isn't as realistic for these folks.
Studios often times create dedicated web pages to support new movies.  In an ideal world, millions of users would go to that page in order to learn more about the film or stay up-to-date on newly released content.  A large enough volume of site traffic would enable the studio to execute a scalable digital marketing campaign, targeted to users who visited the site and are therefore likely to be qualified prospects.
The problem, however, is studio owned and operated (o&o) pages don't drive enough traffic to enable a scalable digital marketing campaign (many brands who do not sell direct also face this challenge).  Consumers are more likely to consume movie-related content across a diverse array of media properties that extend far outside of the film's o&o channels.  In order for the studio to track and aggregate these users into an addressable audience, it would need access to a Data Management Platform (DMP) and that DMP would need to have tags implemented across all publishers who've posted content about the movie.  This is very unlikely, though, as publishers like IMDB, Wikia and Fandango are incentivized to keep their 1st-party audience data to themselves.
Due to a lack of 1st-party data from o&o properties, studios have resorted to alternative strategies in hopes of reaching users who may be interested in their films.  Some of these strategies include demo-targeting (users who are the same sex/age as the assumed "sweet-spot" for the film), mobile location targeting (to reach frequent movie theater goers) and interest-based targeting (by movie genre or other interests related to the movie's content).  While these audience strategies may be a step in the right direction toward finding the ideal prospect, there are serious assumptions and generalizations being made and none of those tactics will result in the studio reaching an ideal audience for the film they're attempting to support.
What if there was a way to understand the unique affinities of an individual film's most passionate fan base?  And then leverage those insights for the construction of a relevant and addressable audience?
Data on what apparel and accessories a film's fans love, what restaurants they eat at and what electronics they buy provides insight on the unique makeup of the film's audience.  The combination of passion points (or affinities) from a variety of different categories define a film's audience and contribute to what makes the audience truly unique.
Affinity Answers' TrueAffinity™ algorithm can identify the affinities of a film's potential fan base at an extremely granular level and use these insights to inform specialized, addressable audience segments for theatrical programmatic campaigns.  Through ingesting active engagements on public social pages across Facebook, Twitter and Instagram, Affinity Answers' TrueAffinity™ AI marketing algorithm analyzes user engagement data to identify affinities between audiences.  Affinity Answers sees 400MM+ users engaging with 60k+ brands' owned social pages, enabling the discovery of an audience's affinities across a vast array of categories.  An integration with Oracle Data Cloud enables the affinity analysis to be translated into an addressable audience, accessible for purchase through nearly any DSP, within all types of inventory.
Let's use ALLIED, a Paramount Pictures film, as an example of how AffinityAnswers can deliver a targeted audience for a theatrical campaign.  Using AffinityAnswers' proprietary platform (Affinity Activation Platform) I uncovered that ALLIED enthusiasts have a taste for top-tier foreign automobiles BMW, Mercedes-Benz and Jaguar, enjoy classy threads from Eileen Fisher and Vince complemented by a snazzy Brietling watch, and have a knack for best-in-class outdoor adventure gear such as Patagonia and Yeti coolers.  These insights paint quite a clear picture of the type of people who are most likely to be interested in seeing ALLIED.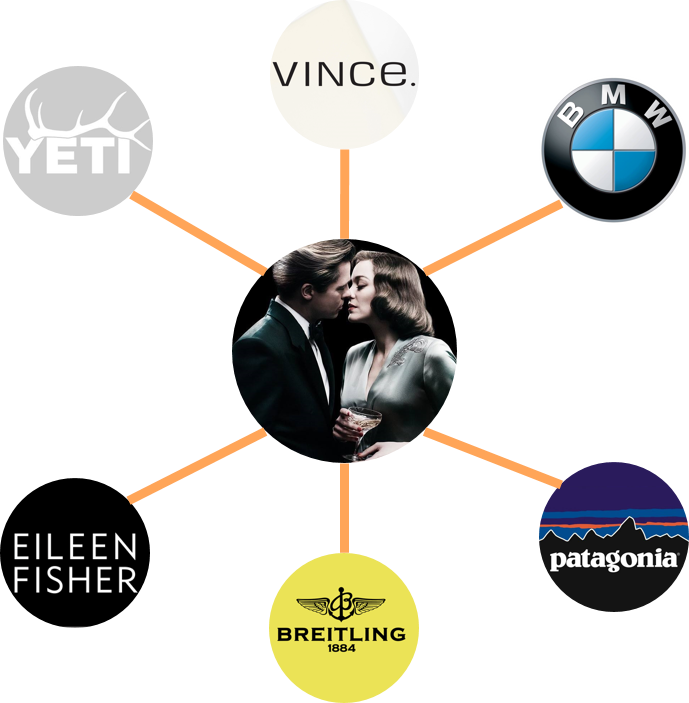 Social media provides a window into the distinct makeup of an audience.  AffinityAnswers has developed a way of capitalizing on the wealth of available public social engagement data and can help marketers understand the unique affinities of their films' most enthusiastic fans.  Through our integration with Oracle Data Cloud, robust affinity insights can be made actionable through programmatic media channels outside the walled gardens of Facebook, Twitter and Instagram, for the very first time.  There's no longer need to settle on assumptions and generalizations about a film's audience in order to activate a scalable programmatic branding campaign – AffinityAnswers offers a unique ability to understand the affinities of an individual film's fanbase and then activate against those insights in the form of a bespoke and scalable addressable audience.
The sales are coming and the planning has begun. Back-to-school time is officially here. Savvy marketers are planning the best way to get out in front and Affinity Answers Branded Retail segments have a unique advantage to capture in-market intent...