Radio Listening Influences Social Engagement
The effectiveness of radio as an advertising medium has long been established and championed. It continues to garner massive audiences and serves as a beacon of information and entertainment in local communities – a feat not easily duplicated by any of its counterparts. At Affinity Answers, we are constantly looking for ways to connect social affinities with consumer experiences. Our TrueAffinity™ metric not only reflects the level of social engagement between two brands, but also one brand's receptivity to another.
Looking at this applied to radio, we arrive at two major takeaways:
          1. Local radio inspires specific behaviors across social media platforms
Unlike its local counterparts (that is, TV stations, newspapers and local websites), which generally drive activity on a single platform, radio inspires specific behaviors on Facebook, Instagram and Twitter. At a rate above the average of all local media, radio listeners post photos on Facebook (1.5x), like content on Instagram (1.3x) and reply to tweets (1.2x).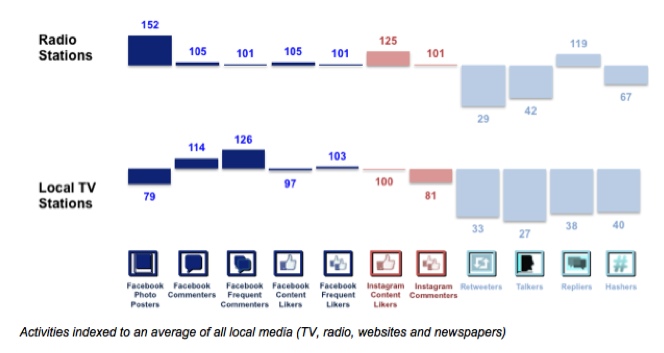 Knowing how listeners interact on social has implications for the station, its talent and advertisers. Integrations and promotions sponsored by a station advertiser can be geared to what actions listeners are most likely to take. For example, auto dealerships can partner with a local radio station by giving away a free car to the listener who posts the most extreme example of their "beater car" on Facebook.
        2. Radio listeners react to campaigns via social.
Since TrueAffinity™ is as much a receptivity metric as it is an engagement metric, we can use it to track the success of radio campaigns. This is true even when the cause is altruistic. Take Cumulus-owned radio station WGRF, whose retiring Larry Norton recently hosted a 28-hour marathon to raise funds for the Make-A-Wish Foundation of Western New York. The 21st consecutive on-air event raised over $140,000, but the value for that charity extends even further.
WGRF is one of the most socially engaged radio stations in the country and triples the average social engagement of other Buffalo media. This social activity was put towards a good cause in this case. Over the first three weeks of September, TrueAffinity between Make-A-Wish and WGRF increased 4.32%, catapulting it into the top 5 charities among fans of the Buffalo station, when it was not previously in the top 10. This means that WGRF's engaged fans became Make-A-Wish engaged fans, allowing the charitable foundation to reach new prospective donors.
Social affinities can demonstrate value for advertisers and publishers of any channel, but it's no surprise that radio, a medium that strikes the balance between entertaining and informative, as well as national and local in scope. How will your brand discover which channel gives it the most expanded audience? Contact us at audiences@affinityanswers.com.
The sales are coming and the planning has begun. Back-to-school time is officially here. Savvy marketers are planning the best way to get out in front and Affinity Answers Branded Retail segments have a unique advantage to capture in-market intent...