Data assurances in a cookieless future
Ongoing hype surrounding cookieless has gradually blossomed into constructive conversations, with countless marketing gurus providing survival guides while organizations proactively bolster their first-party data intake. But as we've recently mentioned, Google is doing their best to maintain a consistent third-party data flow throughout the transition, replacing cookies with alternatives that function in similar but more anonymous methods. Multichannel consumer data plays a pivotal role in how brands, agencies, and publishers understand and reach their audiences, and for most marketers, first-party data alone won't be enough to replace the current scope and targeting options available prior to the transition. Cookieless-certified third-party data now offers marketers the assurance their third-party audiences are future-proofed, allowing campaigns and strategy to continue unperturbed into a cookieless tomorrow.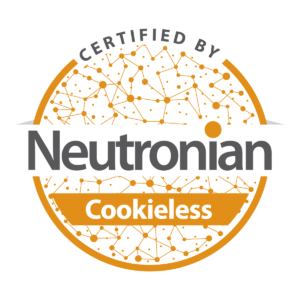 We're very proud to announce our data is Cookieless Certified through Neutronian. Ensuring our data is top-shelf quality is paramount to us, which is why we've partnered up with Neutronian to provide this additional level of certification. Through a detailed verification process, our datasets are confirmed to be unreliant on third-party cookies for audience creation. Our processes and policies have been reviewed against a cookieless framework, and are validated to be futureproofed for the depreciation of third-party cookies. Cookies may be disappearing someday in the future, but our data isn't going anywhere. Whether targeting relevant audiences or completing important customer IDs and personas, a competent compilation of datasets is needed, and our Cookieless Certification badge provides necessary confidence for marketers who invest in our data and audiences.

Data plays a pivotal role in building better understandings of consumers and their behavior. Social, location, and panel data help create more effective audiences for marketers looking to reach new prospects possessing traits similar to their own customers. Comprehensive, clean data builds clearer pictures of buyers, humanizing data into a more relatable and ultimately approachable form. We're proud of the quality of our data and the opportunities it provides marketers, and being Cookieless Certified helps us promote our commitment to quality and accuracy. Find out how our best-in-class data can help fuel your outreach, today and tomorrow. Get in touch with us today.
The sales are coming and the planning has begun. Back-to-school time is officially here. Savvy marketers are planning the best way to get out in front and Affinity Answers Branded Retail segments have a unique advantage to capture in-market intent...