Mixed performances as restaurants climb back from COVID-19

Much has been written about the restaurant industry throughout a two year pandemic which has proven to be as unrelenting as it has been unpredictable. And yet, through it all, restaurants have persisted. For the best in the industry, extreme adversity has brought about much needed innovation, wage increases, and a renewed sense of customer-first focus and service. Restaurants across the industry, from classic QSR to family dining, have embraced the need for updated tech stacks, single-customer views, loyalty, and delivery.
In our "Climbing back from COVID-19" series we are going to track the increases and decreases of diner visitation across the Restaurant industry. We will look at which specific profiles of diners are coming back, which diners are switching, and which diners are staying away.
To kick us off, we compared all visitation data from 1st quarter 2019 to 1st quarter 2022 to see which key restaurants are back to their pre-COVID form, and which ones have a hill yet to climb.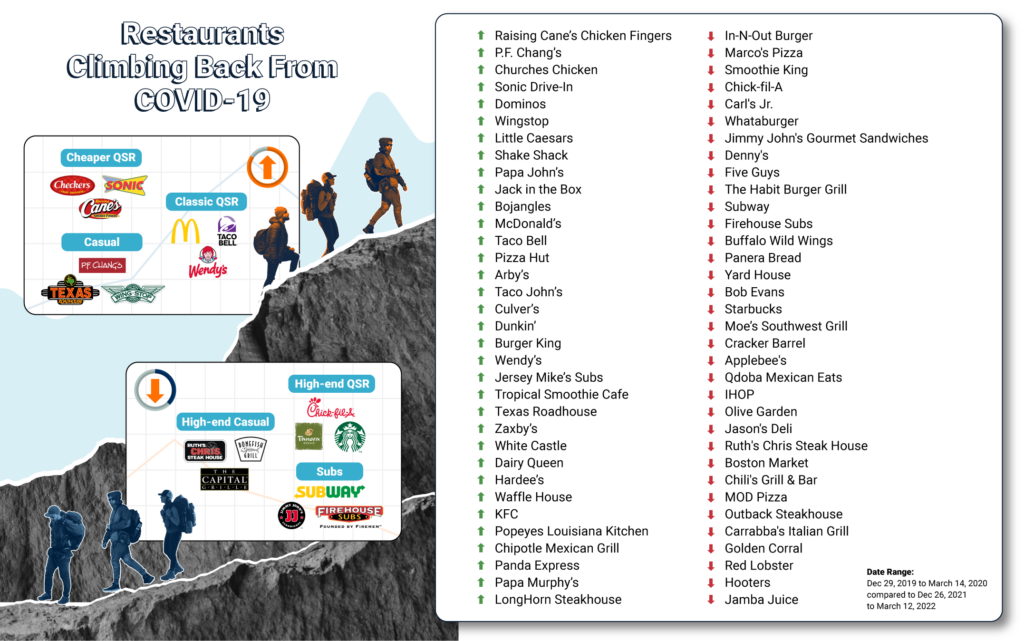 Using the Best Purchase Data Available, We Have Ranked the Top Restaurant Chains Across Casual, Fast Casual, and QSR in the Country We broke out the top restaurants by dining spend across the three major categories of Casual Dining, Fast Casual, and QSR. The Top 10 U.S. DMAs: (click to jump) Atlanta   |   Boston   |…
Read More

The impact of the economic downturn is having an effect on most every industry, and restaurants are certainly not immune. As price levels rise, consumers are seeing higher menu prices at restaurants, which makes dining out more expensive for consumers. As inflation continues to grow, it is slowly eroding purchasing power, making it more difficult…
Read More