Not All Social Data is Equal: Active vs Passive Users
Social media gives fans a direct connection to the entertainment they love, providing access and interactions with their most beloved characters, celebrities, and shows. And for brands and publishers looking to strengthen their connections with fans, social data offers pivotal signals in better understanding current fans while appealing to new ones. But even during times of increased social media usage, it's important for marketers to consistently monitor data flow of the most active users to maximize data-driven strategy.
The pandemic instilled many new norms within our world, particularly introducing a large number of lockdown participants to habitual social media usage. Across the board, social media channels expanded subscriber bases during the pandemic, with 81% of internet users now regularly accessing social media channels. And with the average adult spending 7 more minutes a day on social media than in 2019, we're seeing people connect more than ever with family, friends, and the entities they love.
But while these subscriber and duration increases are broadly positive, they don't necessarily lend themselves to answer all the questions marketers are asking. Just because someone is a member of a social network doesn't mean they're actively and continuously providing meaningful engagements. And just because someone is spending more time within their social accounts does not necessarily correlate to them increasing their engagements, or even engaging at all. As we look deeper into social media usage, we realize the importance of tracking active vs passive users when weighing engagements.
Passive users might spend time scrolling and reading updates but will rarely contribute a powerful signal beyond a simple "like" or link click. While these users are still providing duration and attention within platforms, they're not supplying marketers with the advanced insights necessary to better understand them or others like them. It's difficult to gauge what percentage of social media users are passive, but "lurker" numbers have previously been estimated to be anywhere from 23% to 90%. Passive users provide basic numbers but simply don't contribute the data marketers need for advanced segmentation and outreach efficiency.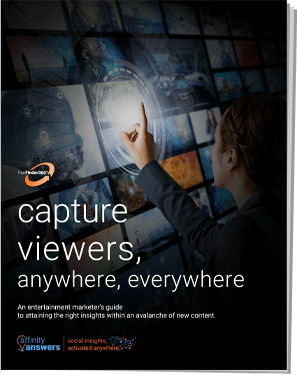 how can entertainment marketers leverage social insights to capture active viewers?
Active social media users, on the other hand, ritualistically engage with content, leaving behind pieces that contribute to a more comprehensive view of their passions, as well as those of like-minded fans. Through comments, shares, and hashtags, active users engage with emotion, waving a light that leads marketers to uncover interests and behaviors that better define fans and viewers while discovering previously unnoticed trends and opportunities. By using fresh data, as close to real-time as possible, marketers can measure and leverage the current trends of active users in order to properly fuel their data-driven strategy.
For marketers looking to leverage the passions of active social media users, FanFinder360º provides unparalleled access to fan engagements across all major social networks. Through continuously measuring the affinities between 250MM users and 45K entities, FanFinder360º provides consistent data from the most active users and passionate fans.
To learn how FanFinder360º can improve your data-driven strategy, reach out to use at hello@affinityanswers.com, or schedule a quick demo with us.
The sales are coming and the planning has begun. Back-to-school time is officially here. Savvy marketers are planning the best way to get out in front and Affinity Answers Branded Retail segments have a unique advantage to capture in-market intent...