Programmatic Marketing Helps Covergirl Increase Scale
Using Affinity Answers' audience segmentation tools to activate a pop star's social engagers, a cosmetics brand was able to convert them into their own social engagers and boost Audio/Video on Completion (AVOC) rates
Covergirl® was looking to increase its programmatic efforts within the cosmetics industry. The cosmetics giant was looking to programmatic marketing techniques in order to identify their customers' interests and better advertise to them.
The brand's agency called on programmatic marketing experts Affinity Answers to produce a branded segment that activated high-affinity audiences of a major pop star. Using this segment allowed the cosmetics brand to reach a very receptive audience at scale.
The impact on a major campaign KPI – the AVOC rate – was enormous: the pop star segment achieved 70% vs. the 40% cosmetic category average.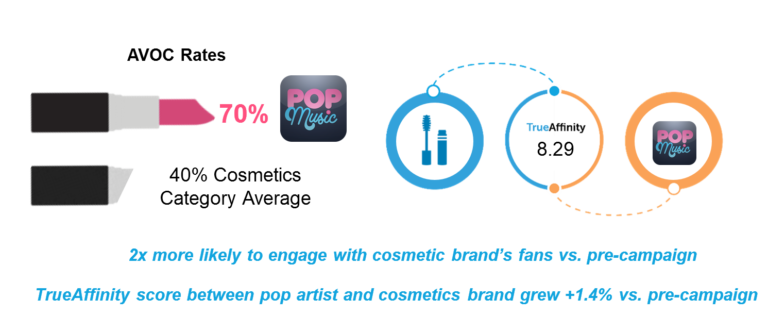 Beyond the initial results was an equally impressive showing–the pop star's fans were now twice as likely to engage with the cosmetics brand on social than they were before the campaign began, and TrueAffinity–a score measuring brand receptivity based on social engagement–rose +1.4%. In six short weeks, the pop star became the #1 music artist among the cosmetic brand's social engagers.
Contact us at audiences@affinityanswers.com to find out how affinity-based audiences can enhance your Buyer-Driven Brand strategies.
It's time to wow your clients with audiences, never before thought possible. Last week we announced that Tik Tok data is now available in all Affinity Answers audience segments, for programmatic and Advanced TV. Now it is time to talk...