The Insanely Misunderstood Power of Brand-Level Data
Imagine you are speaking to a guy you just met at a party. As the conversation goes along, you slowly start to learn more about him. You learn he is 26 years old, lives in Boston, a self-proclaimed technophile, who loves movies and is currently in the market for a new bank.

At first glance, this information paints quite a picture of your new friend. But a deeper look reveals something different.
When he said he was a technophile, which platforms does he prefer? Is he an apple guy or an android guy?
When he said he loves movies, which genre does he watch most? What are some of his favorite movies?
And when he said he was looking for a new bank, was he looking for investment options or to open a new checking account?
Now let's start the conversation over. This time, instead of broad category information, he shared his interests tied to the brands that most interested him. He tells you that he is a technophile who loves the new iPhone, he is an avid movie goer and his favorite movie is Wolf of Wall Street, and he is looking into Merrill Lynch because they have a better online trading platform.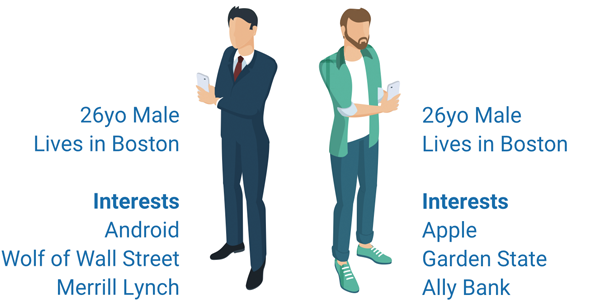 This paints an entirely different picture altogether. Same amount of information, but delivered through a different perspective.
This is the power of brands and more importantly brand-level data. Understanding the brands people follow and are most interested in reveals infinitely more about the type of person they are than their interests at a category level. And there is no better way to understand the complete relationship between people and brands than social.
Social media provides a window into the distinct makeup of an audience. Affinity Answers has developed a way of capitalizing on the wealth of available public social engagement data and can help marketers understand the unique affinities between consumers and brands. Our model allows robust affinity insights to be made actionable through programmatic media outside the walled gardens of Facebook, Twitter and Instagram.
Affinity Answers is a programmatic audience company that uses social data to enrich past-purchase, interest and location IDs through Act-Alike modeling, which identifies people's brand level interests as the fuel for a machine learning model that accurately predicts future purchase intent at scale. Our unique algorithm enables our clients to use programmatic media to find their next new customer, conquest competitors and amplify their existing sports and media sponsorships.
For more information email audiences@affinityanswers.com
Data brings us closer to consumers, allowing us to understand their behavior, passions, shared interests, and mutual affinities across brands and entities, resulting in deeper, more meaningful connections with current, past, and future customers. As data's role in marketing strategy...
Comedy Central hadn't had a scripted series hit in years, so the longstanding comedy network put particularly thoughtful planning into the promotion of Awkwafina is Nora From Queens, channeling fan insights to provide a positive and ongoing viewership.  With Broad...