Playstation Conquesting Lifts Purchase Intent
Using a branded Affinity Answers' segment to reach audiences of its competitor, a top gaming console was able to boost purchase intent during the holiday season.
With the holiday season of 2016 in full swing, a top gaming console wanted to do everything it could to steal market share from competitors.
The brand's agency used an audience segment modeled after the social engagements of PlayStation. It was designed to reach branded audiences that were likely to engage with PlayStation on social and thus would be receptive to content or messaging from PlayStation. Since the gaming console category is very competitive, this segment was intended to pick up users that may be deciding which console to purchase.
After the campaign concluded, a brand study was conducted by Nielsen Vizu, a firm that specializes in measuring digital brand advertising effectiveness. A one-question survey was administered to participants, some of whom had been reached by using the segment and others who were not: how likely are you to purchase Brand X gaming console in the next 3 months?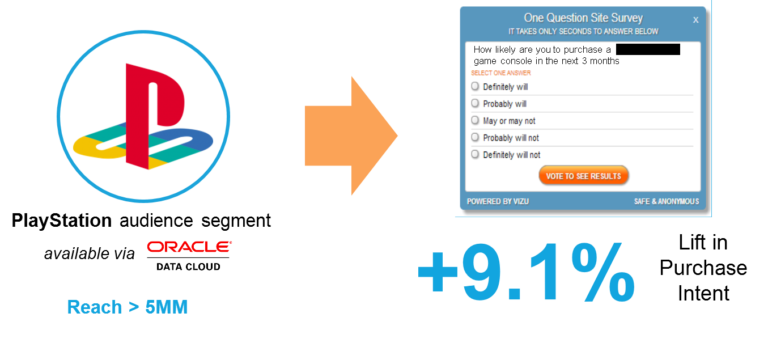 The results were positive: those reached by the segment were 9.1% more likely than those who were not reached by the segment to state that they were likely to purchase the gaming console in the next three months. This was a big victory for the brand and for affinity-based targeting because it demonstrated that the advertising was effective, that the right audience was targeted and that affinity-based targeting is linked to the first step on the road to sales.
Contact us at audiences@affinityanswers.com to find out how affinity-based audiences can enhance your Buyer-Driven Brand strategies.
Data brings us closer to consumers, allowing us to understand their behavior, passions, shared interests, and mutual affinities across brands and entities, resulting in deeper, more meaningful connections with current, past, and future customers. As data's role in marketing strategy...
Comedy Central hadn't had a scripted series hit in years, so the longstanding comedy network put particularly thoughtful planning into the promotion of Awkwafina is Nora From Queens, channeling fan insights to provide a positive and ongoing viewership.  With Broad...