F1 Racing is Fast, But is it Swift?
This weekend Formula One (F1) racing makes its only US stop of the year in Austin, TX for the 2016 US Grand Prix.  This marks the 5th year in a row of the US Grand Prix at the Circuit of the Americas (COTA) track, which opened in 2012 after a 5-year absence of F1 in America.  Since then, attendance – both overall and final race – has declined every year, presenting an interesting challenge to race organizers: how to grow local and US-based fan interest in a sport whose primary audience is international and high-income.  Add to this the fact that F1 includes only one US team (Haas) and no US drivers, and the challenge of penetrating the US is even harder for F1 and COTA.
But this year COTA has a secret weapon to increase overall attendance – Taylor Swift.  In the past, the US Grand Prix has featured major concerts on Sunday, after the final day of racing, when attendance is already at its highest.  For example, last year "Rocket Man" Sir Elton John, played after Sunday's final race.  But Taylor Swift will be playing on Saturday of race weekend this year, after the qualifying round.  Given this is the only concert for 10-time Grammy winner Taylor Swift in 2016, and that she is one of the most popular current recording artists, Saturday's attendance this year is sure to beat the previous Saturday attendance record.  Then, after the Finals on Sunday, Usher and the Roots will play.
Here in Austin, there is plenty of evidence that this tactic is bringing new people to the F1 COTA race.  Personally, my daughter – who has never shown any previous interest in F1 – now wants to attend.  And while leveraging Taylor Swift's popularity may mean an attendance win in 2016, questions remain whether this will help the long-term prospects of Formula One in the US, and of the US Grand Prix at the Circuit of the Americas track in Austin.
At AffinityAnswers, we have developed the TrueAffinity™ metric which measures the reciprocal affinity – not just popularity – between any two brands, celebrities, musicians, shows, movies, etc.  It is measured on an exponential scale between 0 and 10, and can be used by marketers to measure the success of campaigns and partnerships, as well as to activate audiences that are statistically likely to respond to their brand messaging.
In the example of the F1 / COTA and Taylor Swift partnership, we can evaluate the effectiveness of reaching a new audience by plotting the trend of TrueAffinity™ scores over time.  In the chart below, we can see that prior to the concert announcement in March, Taylor Swift had a very moderate TrueAffinity™ score with Formula One of 4.8.  While this indicates some overlap in audience, and a higher likelihood of a Taylor Swift fan to engage with Formula One content than the average individual, there were many other artists, such as Deadmau5 and Adele, with higher TrueAffinity™ scores.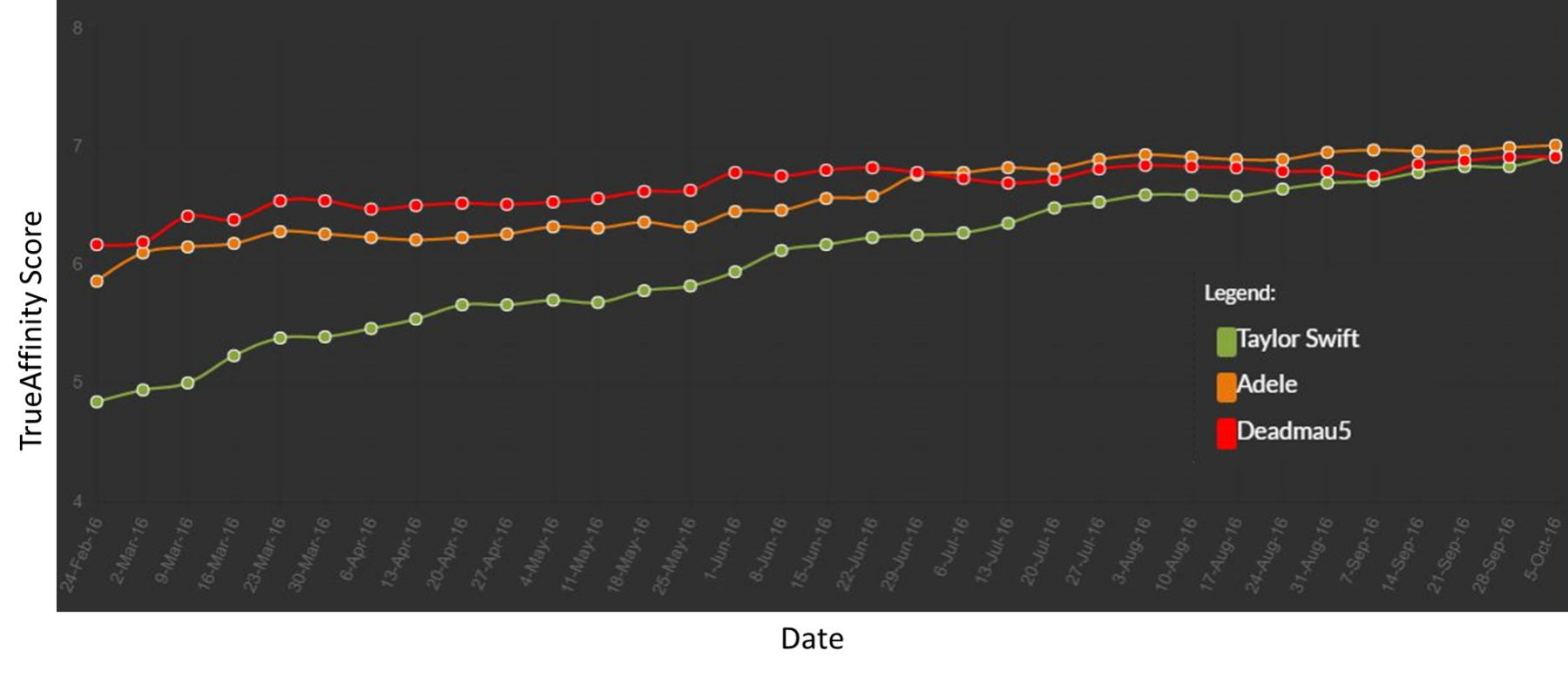 But even though Taylor Swift had a lower TrueAffinity™ with F1 earlier this year, the metric is not static, and it incorporates the effects of paid, owned, and earned marketing efforts.  So, as the F1 and COTA marketing machines began promoting the concert, the TrueAffinity™ score grew, until the Taylor Swift audience is essentially at the same level as the Adele audience.  This bodes well for attendance this Saturday, but also leaves a question: could an Adele headlined concert have led to attracting just as large of an audience that may have stronger long-term interest in F1 racing?  Maybe we'll get that answer next year as COTA looks for the next attendance boost…
Earlier I mentioned that TrueAffinity™ scores could also be used to activate audiences; let's go back to that…  It will likely surprise no one that seven of Formula One's top 10 mutual affinity brands are international automakers (Mercedes-Benz, Renault, Porsche, Nissan, Jaguar, BMW, and Aston Martin) and that an additional two are in the automotive industry (Pirelli and McLaren).  While these affinities are not surprising, they are actionable.  Any of these brands' audiences can be activated by COTA and Formula One via a programmatic branding campaign.  In fact, all of these automakers (with the exception of Renault) are existing Oracle Data Cloud (BlueKai) segments, available off the shelf on most DSPs.  Using these segments, with a geographical filter for the US, as a basis for an audience extension campaign is a great way to find potential attendees that would likely have interest in Formula One, and not just the after race concert.
Another approach to penetrate the US market is for Formula One and COTA to target the audiences of high TrueAffinity™ US brands and entities, shown in the diagram below.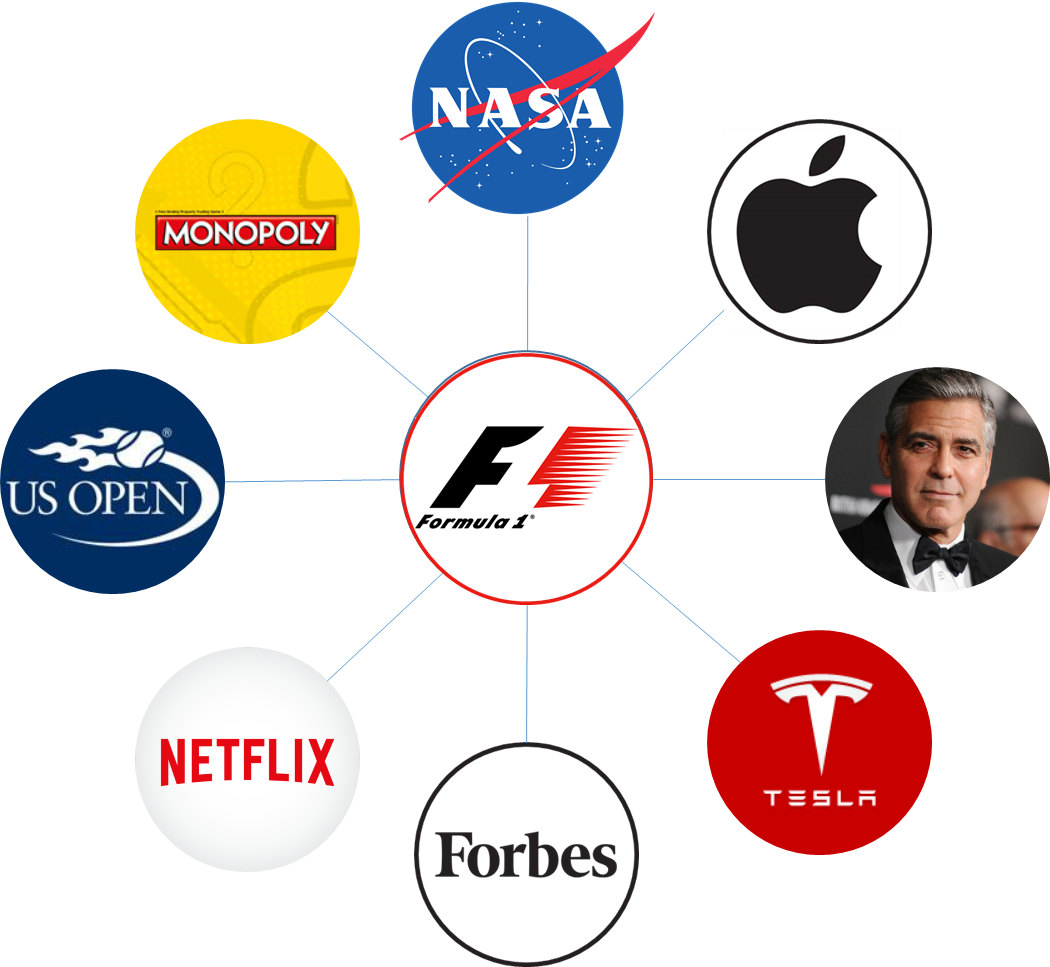 The highest affinity on a US brand is Tesla at 7.49, closely followed by Apple at 7.44 and NASA at 7.41 (this audience appears to be into design and engineering, which makes logical sense).  Formula One could partner with, target the audience of, or even advertise with these brands to drive awareness and consideration of Formula One racing in the US market.  Here at AffinityAnswers we can model a programmatic audience exactly on these lines, helping to identify future F1 fans.
While a Taylor Swift concert will sell tickets this Saturday, ultimately the success of Formula One in the US will depend on finding and nurturing interested US consumers into long-term F1 racing fans; TrueAffinity™ provides a mechanism to plan, activate and measure that journey.
photo source www.formula1.com
Data brings us closer to consumers, allowing us to understand their behavior, passions, shared interests, and mutual affinities across brands and entities, resulting in deeper, more meaningful connections with current, past, and future customers. As data's role in marketing strategy...
Comedy Central hadn't had a scripted series hit in years, so the longstanding comedy network put particularly thoughtful planning into the promotion of Awkwafina is Nora From Queens, channeling fan insights to provide a positive and ongoing viewership.  With Broad...