Activating Affinity-Based Audience Segments
Achieving scale without sacrificing performance for a local automaker
Ask anyone to name an automaker, and you're likely to hear the brands that, through consistent advertising, have earned a spot in the consumer consciousness. While these brands are national household names, automakers still rely on their local dealerships to sell their cars.
One of these automakers, working with a top DSP (Demand Side Platform), was looking to extend their audiences, but still wanted to stick with a local strategy. How do you create new audiences for your brand, but at the same time, make sure that the message is relevant to people living within specific markets?
The DSP was already using an in-market segment; they were achieving video completion rate goals and beyond, but the scale was limited. However, they did not want to turn to the alternative – using a segment with scale – that ultimately would not be relevant to most users served with the ad, and thus wasteful.
AffinityAnswers provided a unique solution. First, using an Oracle Data Cloud segment grouping together the cookies with highest affinity to the automaker assured that they would be able to reach audiences that are highly receptive to their brand. Second, a geographic filter was applied so that any extended audiences would still be in the local area.
The results were a trade-off that any marketer would gladly make if they knew they could reach the most qualified audiences in large quantities. The AffinityAnswers segments, combined with the geographic filters, increased reach by a factor of 10. Video completion rates also remained comparable at 70%, maintaining 93% of the level achieved by the in-market segments.

Marketers should take note: AffinityAnswers is in the business of extending audiences, but it would be foolish to discount the benefits many brands have in keeping their advertising on the local level. Because social affinity is reflective of the consumer experience, it should be used in such a way that reaches them in the right context, wherever they are.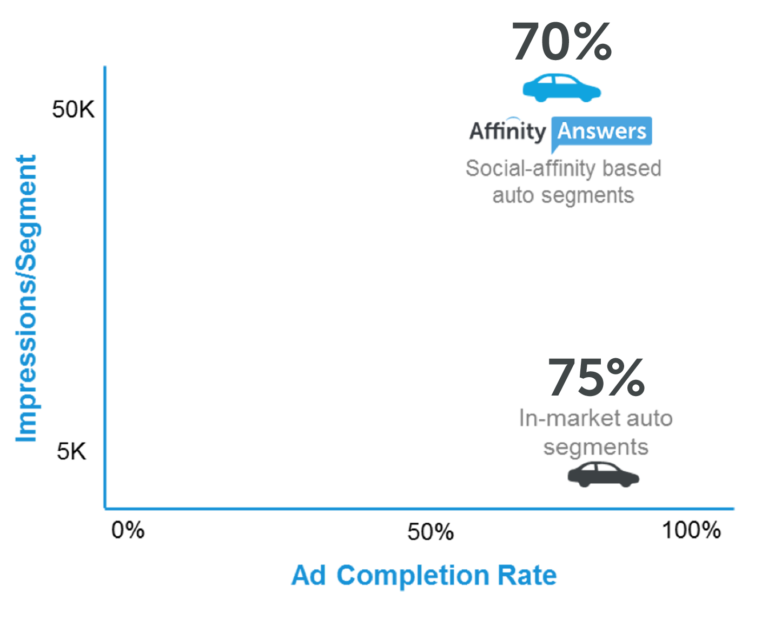 Contact us at audiences@affinityanswers.com to find out how affinity-based audiences can uniquely bring solutions to your brand.
Data brings us closer to consumers, allowing us to understand their behavior, passions, shared interests, and mutual affinities across brands and entities, resulting in deeper, more meaningful connections with current, past, and future customers. As data's role in marketing strategy...
Comedy Central hadn't had a scripted series hit in years, so the longstanding comedy network put particularly thoughtful planning into the promotion of Awkwafina is Nora From Queens, channeling fan insights to provide a positive and ongoing viewership.  With Broad...