Top Music Artist Affinities of 2016 Presidential Frontrunners
Ben Carson is up, and Joe Biden is out. Presidential campaigns are long, rough-and-tumble marathons, and the 2016 cycle is no different. Another tradition of White House contests: politicians using music on the campaign trail.
Whether it's Katy Perry performing for Hillary Clinton's campaign and taking over her Instagram or Steven Tyler asking Donald Trump not to use Aerosmith's "Dream On", this campaign cycle, too, is intertwined with music. We wondered which artists would be most effective to reaching fans of either frontrunner, so here are the top 10 music artist affinities of Clinton and Trump: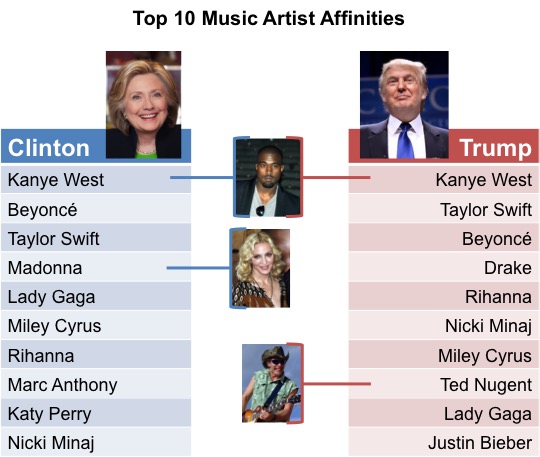 Interestingly, possible future candidate Kanye West is at the top of both lists, and it's not until you get to #4 on either list that there is some distinction between the otherwise very distinct frontrunners. Either the top 3 artists are effective target audiences for both campaigns, or these affinities are a sign that maybe there is common ground between Republicans and Democrats after all. We like the sound of either option.
Image credits:
Featured Image: DonkeyHotey via Flickr
Hillary Clinton: Hillary for Iowa via Flickr
Donald Trump: Gage Skidmore
Kanye West and Madonna: David Shankbone
With Australia winning the T20 World Cup series, there will be a switch to the Ashes series against old opponents England. Advertisers and Marketers lead the monetisation avenues for brands today. High volumes of fan engagement data translate to a...