Introducing TV Ad Exposure Segments
Not having enough targeted reach for advertising with consumers is a growing problem for marketers, one that is not confined to online or broadcast media. This begs the question: how do marketers effectively reach receptive audiences at sufficient scale and frequency? Brand interactions on social media are the link between what a consumer sees on-air and shares online. Affinity Answers' TV Ad Exposure segments deliver a connection between a broadcast audience and that same audience using the Internet after being exposed to advertising.
Brands have to compete for mindshare today more than ever to get return on their TV ad investment, given the multiple screens that are competing for consumers' attention. When Honda Civic, for example, advertises in Family Guy, competes with laptops, mobile devices and tablets – if the program's viewers are watching live in the first place. Despite the fact that Family Guy fans are engaging with Honda Civic on social media, they are not compelled to do this while actually watching the show.
"In a world where consumer attention is increasingly moving away from television into digital devices, extending linear reach into addressable channels is not just smart–it's table stakes for one-to-one marketing. Social affinity data happens to be the connective tissue between brands and television, and Affinity Answers is a key part of establishing and enforcing that connectivity."

– Chris O'Hara, VP of Strategic Accounts for Krux Digital, Inc.
TV Ad Exposure segments target these ad responders – social fans of the show who engage with your brand after seeing your brand's ad on TV. These segments target a dynamic, new TV audience wherever they are, by identifying their digital website affinities and reaching them on these sites they find compelling. TV Ad Exposure segments increase conversions by leveraging the tailwind provided by your TV advertising.
   HOW TV AD EXPOSURE SEGMENTS WORK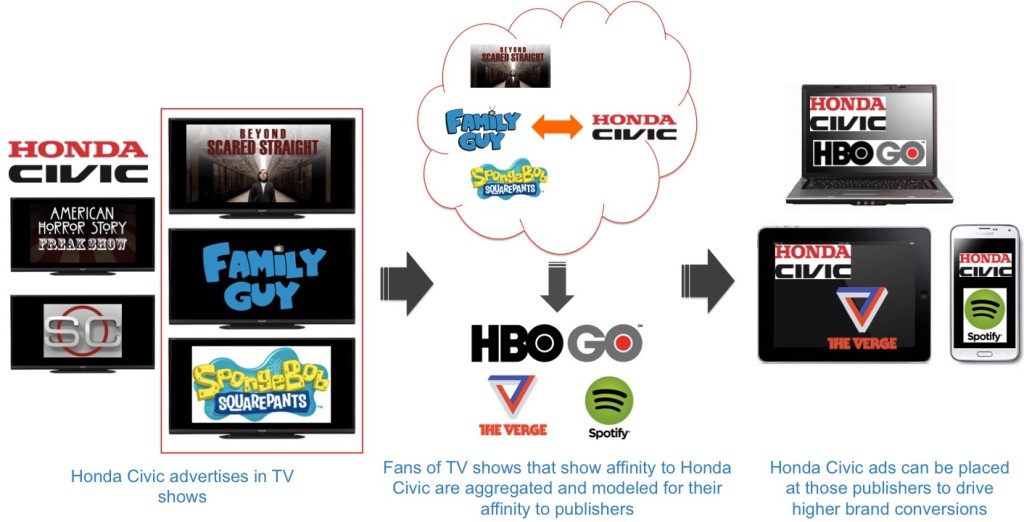 Let's start with the traditional TV viewer who watches every week. He's loyal and lives for the next classic Peter Griffin cutaway gag. He sees Honda Civic's ad on FOX, is interested, but would rather continue watching the show than immediately take action online. It's far more effective to catch up with him a couple of hours later, or even the next day. Invite him to sign up for a test drive, online via a display ad on The Verge when he is ready to take action!
The focus of the TV industry is continually shifting toward the live viewer engaging with the broadcast on mobile devices. While it's true that he may have her tablet at the ready to engage with second screen content, this has little or nothing to do with advertising, and everything to do with show content. Considering how small the second screen audience is compared to the total audiences for the program, it's clear that viewers want their program experiences and brand experiences to be separate. TV Ad Exposure segments target the most receptive audiences, when they are most receptive to take action on the advertising they have seen.
HOW TO ACCESS TV AD EXPOSURE SEGMENTS
Log into your preferred DMP or DSP, and search for "Affinity Answers". Select the segment for your brand under "TV Ad Exposure", and extend your reach to wherever your TV audiences are online. Reach Honda Civic ad responders on The Verge, or Olive Garden fans on HuffPost Entertainment, and ensure that you're getting in front of ad responders that will be compelled by your content and the context.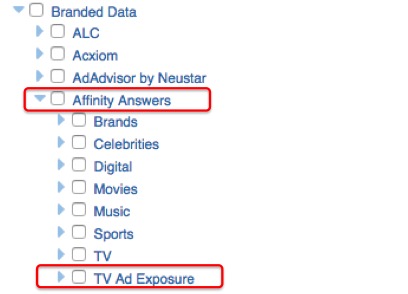 For more information on our TV Ad Exposure segments, please contact Affinity Answers.
Data brings us closer to consumers, allowing us to understand their behavior, passions, shared interests, and mutual affinities across brands and entities, resulting in deeper, more meaningful connections with current, past, and future customers. As data's role in marketing strategy...
Comedy Central hadn't had a scripted series hit in years, so the longstanding comedy network put particularly thoughtful planning into the promotion of Awkwafina is Nora From Queens, channeling fan insights to provide a positive and ongoing viewership.  With Broad...